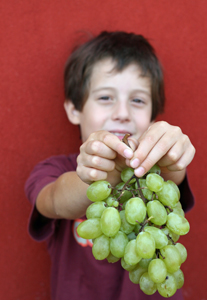 Adolescence is a critical period for oral hygiene. By the teenage years, kids will have lost all their baby teeth and replaced them with permanent teeth. Furthermore, many oral hygiene habits solidified in adolescence carry through to adulthood. Teaching adolescents to follow a healthy diet not only benefits their physical fitness but helps them maintain strong teeth and healthy gums.
Fruits and vegetables
Parents know that eating broccoli is important, but were you aware that it can keep teeth and gums healthy, too? Dr. Varble, Dr. Applebaum, Dr. Dill and Dr. Wong and our team at SmileKidz will tell you that eating plenty of crunchy fruits and vegetables, such as broccoli, carrots, celery, apples, and pears, increases your saliva production. Saliva works to brush away bad bacteria that produce dangerous acids that wear away tooth enamel.
It's also important to avoid acidic foods, which can exacerbate cavities and other dental problems. Although oranges, tomatoes, grapefruit, lemons, and berries are healthy, they can also wear away the enamel of your teeth. To be safe, it's important to brush after each meal or swish with mouthwash to remove excess acid from your mouth.
Sugar-free foods
Many candies and treats are chock-full of sugar, making them dangerous for your child's dental health. If you have a sweet tooth, fear not: you don't have to give up the sweet stuff entirely. Whenever possible, opt for sugar-free substitutes rather than regular sugar. For example, chewing sugar-free gum or drinking sugar-free beverages is better for teeth. These sugar substitute molecules don't wear away enamel, which makes them safer for dental health.
Watch the beverages
Most adolescents have been told that soda will rot your teeth, but you may not realize that other beverages can be just as sugary. Many fruit juices, even those that boast 100% fruit, contain dozens of grams of sugar per serving. Similarly, popular energy drinks pack a sugary punch. When possible, drink water or milk. If your child is craving a hot beverage, turn to tea over hot chocolate or a sugary latte.
Dairy products
Teeth are like any other bones; they rely on calcium and other minerals to stay strong. To help build strong teeth, have your child drink milk or eat other dairy products to get his or her daily calcium. Yogurt, cottage cheese, and cheese are good options as well. If your child can't tolerate dairy, consider calcium-fortified soy milk or orange juice to provide that daily dose of vitamins and minerals.
For more information on this topic, or to schedule an appointment with Dr. Varble, Dr. Applebaum, Dr. Dill and Dr. Wong, please give us a call at our convenient Creve Coeur, MO and St. Charles, MO office!