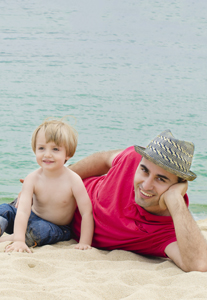 Dr. Varble, Dr. Appelbaum, Dr. Dill and Dr. Wong and our team at SmileKidz specialize in pediatric dentistry, and we understand that children can be frightened of things they do not understand. This anxiety is often heightened by an unpleasant dental experience or stories they hear from classmates. We have many methods at our Creve Coeur, MO and St. Charles, MO office to make your child's dental visit pleasant and anxiety-free.
Listening
The first thing Dr. Varble, Dr. Appelbaum, Dr. Dill and Dr. Wong and our team do is talk to your child, listen to any concerns he or she may have, and take the time to explain the dental work that will be done. Often children will lose their fears by simply understanding what is happening and why. In addition, you are welcome to be in the room with your child during exams and treatments. When a child is able to see that the parent is relaxed, this is more conducive to the child's relaxation.
Relaxation
When you arrive at SmileKidz, let your child to play with the toys we provide. This starts the visit in a positive manner. Taking your child's mind off the exam is useful. While your child is undergoing an examination or procedure, listening to music or watching a video can support a sense of relaxation. When children understand that we care, their anxiety levels are reduced.
Sedation
Nitrous oxide is a sedation technique commonly used to reduce anxiety and alleviate any pain. It is beneficial partly because the effects wear off quickly. Topical pain relievers can also be useful for children with sensitive teeth, and this will eliminate discomfort.
Deeper sedation is useful for complex dental issues, extreme anxiety, or a fear of needles. A liquid or tablet sedative can be given before your child's appointment. This type of sedation is also helpful for children with a fear of the masks used for nitrous oxide.
We welcome you and your child to discuss any concerns that you have regarding his or her dental appointment. We want your child to be free from anxiety about visiting Dr. Varble, Dr. Appelbaum, Dr. Dill and Dr. Wong. The earlier your child's fears are addressed, the less likely the fear will carry into adulthood.