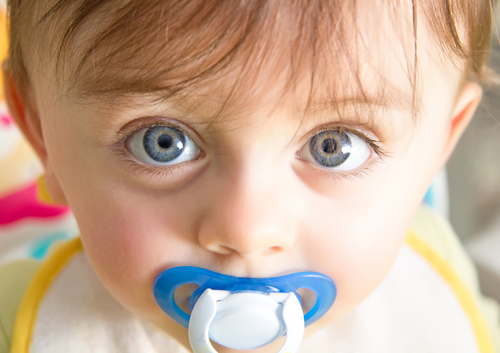 Children are born with a natural sucking reflex. In fact, sonogram images from the womb often reveal an unborn baby practicing by sucking on his or her fingers or thumb. Not only does sucking aid in your baby's ability to acquire food and nutrients, but it is also a security and possible analgesic outside of meal times.
Though it is both normal and beneficial for parents to soothe their children with pacifiers during infancy, long-term use could interfere with oral health and development. Most children will stop using a pacifier on their own. However, the American Academy of Pediatric Dentistry recommends halting pacifier use after age three. Prolonged thumb sucking or pacifier use after this time can cause the upper front teeth to begin to lean outward. It can also cause new teeth to erupt crookedly, and it can negatively affect jaw alignment.
If your child is not showing signs of self-weaning by age two, you may begin the process by limiting pacifier usage to specific times, such as nap time or when getting vaccinations. Offer an alternative security item, such as a blanket, and be sure to praise your child when he or she chooses the blanket over the pacifier.
Tips
Never under any circumstances should you dip your baby's pacifier in something sweet. Though it is a tempting way of encouraging your child to take a pacifier when crying, it can also lead to early childhood tooth decay.
If your child has not discontinued pacifier use by age three, talk with Dr. Varble, Dr. Appelbaum, Dr. Dill and Dr. Wong about behavioral modifications or appliances that can help your child wean.
Never use negative reinforcement to discourage pacifier use. Punishment for pacifier use is not effective for changing your child's habits.
If you have any questions or concerns about your child's pacifier usage or which types of pacifiers are best for your child's oral health, please give our team at SmileKidz a call at our convenient Creve Coeur, MO and St. Charles, MO office!