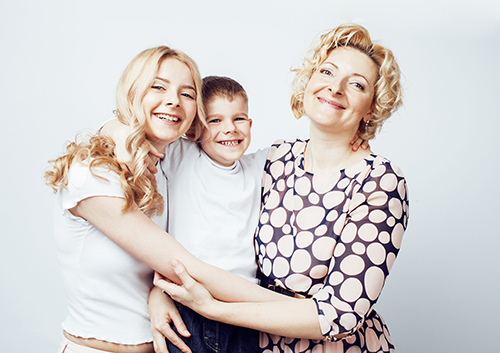 As a parent, you know how important a happy, relaxed atmosphere is when it comes to making your child feel at home. We would like to make our Creve Coeur, MO and St. Charles, MO practice your dental home, where you and your family enjoy the best of dental care in a warm and welcoming environment.
What makes a dental home?
From your child's first visit, we strive to make you both feel at ease. Our office is designed to be a happy, entertaining, and relaxing place, and our staff is trained in making little ones feel calm and secure. We want to have a lasting relationship, and we want you and your child to feel welcomed back whenever you return.
We recommend visiting our office for the first time by the time of your child's first tooth or first birthday. Our early visits are designed to make your child familiar with what a dentist does and how a dentist helps keep children healthy. Regular preventative care will keep those little teeth in great shape, and, if your child has a cavity that needs filling or requires any other dental procedure, we will have a history together and a familiar place to experience an unfamiliar treatment.
We use state-of-the-art dentistry to make sure your child has the best and most comfortable treatment as a patient, and we also consider the psychological aspect of each visit for your particular child. We are experienced in dealing with children who might feel anxious and working with them to overcome their worries. Part of our job is to make each visit a happy one, so your child is always comfortable visiting us.
We want to establish a relationship that will last through the years. Continuity of care means that we are able to follow your child's dental development during those active growing years and the transition from primary to permanent teeth. We provide not only dental health education, treatment, and preventive care, but can track any changes or potential problems before they become major issues. In case of a dental emergency, we will be familiar with your child personally, and with a dental history at hand.
Give Dr. Varble, Dr. Appelbaum, Dr. Dill and Dr. Wong a call to talk about your child and how we can make the dental experience a positive one from the very beginning. When it comes to establishing a happy and healthy foundation for your child's dental history, there's no place like our dental home!