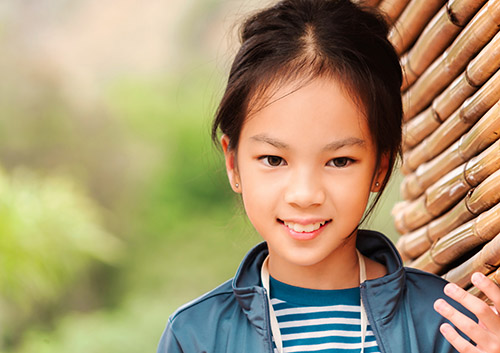 The grownups in your life want you to have healthy teeth. That's why they remind you to brush and floss, make you tooth-friendly meals, and take you to see the dentist regularly, at an office designed just for you. You've been visiting Dentistry for Children for a while now, so you know all about checkups and cleanings.
At every dental exam, Dr. Varble, Dr. Dill, Dr. Wong, and Dr. Parks will look at your teeth very carefully, checking not just the outside of your teeth, but around and behind your teeth as well. (That's what those little mirrors are for.) You might have X-ray pictures taken to show the inside of your teeth. In all these ways, we make sure your teeth are healthy, inside and out.
You expect all these things at a dental checkup because you're used to them. When you hear that you have a cavity, you might be worried. After all, if you've never had a cavity before, you don't know what to expect. And sometimes not knowing is a little scary. So let's talk about what a cavity is, and how your dentist can help make your tooth healthy again if you need a filling.
Teeth are covered with a very hard white coating called enamel. Enamel is the strongest part of our bodies, even stronger than our bones. But when we eat too many sugary foods, or don't brush the way we should or as much as we should, or even just because of the way some people's bodies work, our enamel can be hurt by cavities.
A cavity is a hole in your tooth enamel. These holes are made by the bacteria in plaque, which turn sugars into acids. This is why it's important to brush carefully to get rid of plaque, and to watch how much sugar we eat. It's not just people who like sugar—bacteria do, too!
The acids bacteria create attack our enamel and make it weaker. If the enamel gets too weak, a hole will start to form. This is what we call a cavity.
How Do You Know You Have a Cavity?
Maybe you came to our Creve Coeur or St. Charles office because you have a toothache, or it hurts when you eat something hot or cold. Those are often clues that you have a cavity.
But small, early cavities don't always bother us. That's why regular checkups are so important, and why Dr. Varble, Dr. Dill, Dr. Wong, and Dr. Parks will look carefully at each tooth to make sure that it's healthy.
Dr. Varble, Dr. Dill, Dr. Wong, and Dr. Parks might give you some medicine to make sure you don't feel uncomfortable while your tooth is being repaired. The area around your tooth will get numb, which means you won't feel anything while we work.
There are different ways to remove decay from your tooth. Some can be noisy, and some are quiet. If noise bothers you, let your dentist know—there are ways to cover up annoying sounds.
After the decay has been removed, it's time to clean your tooth. This makes sure that no germs or bacteria are still around when your tooth is filled.
But after all the decay is gone, you'll still have a little hole in your tooth. That's why the next step is . . .
Since a hole in your tooth enamel makes it weaker, this hole needs to be filled up to make your tooth strong again—that's why it's called a "filling."
There are different kinds of fillings, and your dentist will tell you which one is best for your tooth. A molar, one of the big teeth in the back of your mouth, needs a strong filling for all the work it does chewing food. Your dentist might use a metal filling to help your molar do its job. If you have a cavity in one of your front teeth, you might get a tooth-colored filling. This filling is made to match the color of your enamel, so no one can see the filling when you smile.
All done! In just a little while, the area around your tooth won't be numb anymore, and we will let you know when you can eat and drink regular foods again.
If you do your best to keep your teeth healthy, you can look forward to cavity-free checkups in the future. But when you need a filling, or if you have a tooth which needs another kind of treatment, we are here to help you make sure your happy smile is a healthy smile!