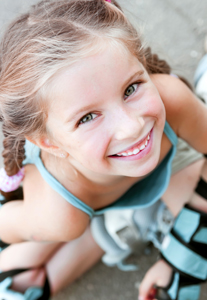 Today, Dr. Varble, Dr. Dill, Dr. Wong, and Dr. Parks and our team at Dentistry for Children thought we would answer some of the most frequent questions about pediatric dentistry and oral health we hear from parents.
What constitutes a "healthy, balanced diet" for my child?
A healthy, balanced diet contains all the nutrients your child needs to grow, including one serving each of fruits and vegetables, breads and cereals, milk and dairy products, and meat, fish and eggs per day. Make sure your child limits snacking in between meals and limits how frequently they consume food or beverages that contain sugar, which is known to cause tooth decay. Besides pastries, cookies, and candy, sugars are usually found in processed foods such as crackers, cereals, and soda, as well as in condiments like ketchup.
Should my kid give up all foods that contain sugar?
Absolutely not, we simply recommend choosing and serving sugars sparingly. A food with sugar is safer for teeth if it is eaten with a meal, not as a snack. When your child chews during his or her meal, the saliva produced helps neutralize the acids that are found in sugary and starchy foods. Foods that are not easily washed away from your child's teeth by saliva, water, or milk have more cavity-causing potential.
What causes cavities?
Many types of bacteria live in our mouths—some good, some bad. When these bacteria come into contact with sugary foods left behind on your child's teeth after eating, acids are produced. These acids then attack the enamel, and eventually eat through the enamel and create holes in the teeth, which Dr. Varble, Dr. Dill, Dr. Wong, and Dr. Parks and our team call cavities, or caries.
How can I help my child avoid cavities?
This is a great question that we hear a lot. Make sure that your child brushes his teeth twice a day with fluoride toothpaste. Flossing daily is also important, as flossing can reach spots between the teeth that brushing simply can't. And finally, we encourage you to schedule regular appointments with Dr. Varble, Dr. Dill, Dr. Wong, and Dr. Parks at our Creve Coeur or St. Charles office so that we can check the state of your child's teeth and gums, as well as provide a professional cleaning to protect him or her from cavities and gum disease.
What is the best way to clean my baby's teeth?
We recommend you clean your baby's gums after feedings with a damp, soft washcloth. This is even before your baby's first tooth appears. As soon as his or her first tooth does appear, you may begin using a toothbrush with soft bristles and a small head. You can most likely find a toothbrush designed for infants at your local drugstore or ask us for one during your next visit.
What should I do if my child has a toothache?
First, we recommend rinsing the irritated area with warm salt water and placing a cold compress on his or her face if it is swollen. If you have any at home, give your child acetaminophen for any pain, rather than placing aspirin on the affected teeth or gums. Finally, give us a call as soon as possible to schedule an appointment with Dr. Varble, Dr. Dill, Dr. Wong, and Dr. Parks.
We hope that helps! Please give us a call if you have any questions or ask us next time you visit our office for your child's appointment with Dr. Varble, Dr. Dill, Dr. Wong, and Dr. Parks! If you have any other questions, or would like to schedule an appointment, we would love to hear from you.