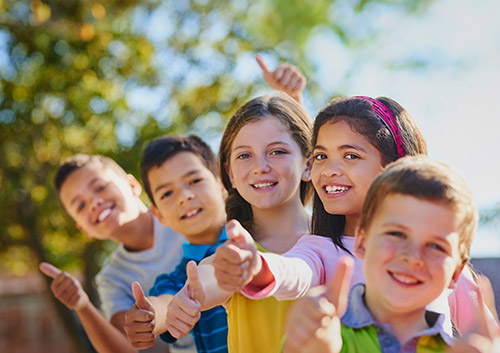 You know a lot about taking care of your teeth. You brush carefully twice each day, you floss, you (mostly!) eat healthy foods, and you see Dr. Varble, Dr. Dill, Dr. Wong, and Dr. Parks for checkups and cleanings. Good for you! These are some of the very best ways to make sure you don't get cavities.
But it takes more than taking care of your teeth for good oral health. It also means taking care of your gums, because your teeth and gums are a team.
Clean and healthy gums and teeth work together. Our gums fit snugly around our teeth to help protect them from bacteria and other germs. And clean, plaque-free teeth are important for healthy gums. How? Let's take a look.
Plaque forms all day long, and sticks to our teeth unless we brush and floss it away. The bacteria in plaque create acids. These acids make our tooth enamel weaker, which can lead to cavities. We don't want cavities, and so we brush and floss to get rid of plaque.
But that's not the only reason we clean our teeth well. Plaque is double trouble, because the bacteria in plaque also irritate our gums.
How do our gums react when they're irritated? They turn darker pink or red, or they get swollen or sore, or they even bleed a bit when you brush. All these signs are symptoms of gingivitis, which is how gum disease begins. (And sometimes people can have gingivitis without any big symptoms at all.)
So, how do you make sure you keep your gums healthy? Just remember to include your gums while you're doing all the things you already do to take care of your teeth!
Lots of people, including kids, get gingivitis, because it doesn't take long for plaque to build up when we don't brush often enough or carefully enough. Make sure to brush twice each day, and don't forget to angle your toothbrush to gently brush along the gum line where your teeth and gums meet.
Gentle brushing is all you need for daily tooth cleaning. Rough brushing and hard bristles can hurt even tough tooth enamel, so you know they're not good for your gums!
Flossing gets plaque that your toothbrush can miss. After all, it's hard for bristles to squeeze in between those tight teeth. And flossing is especially important for your gums, because it removes plaque that is hiding near the gum line.
But figuring out the best way to floss teeth can be hard even for adults! Luckily, you have an expert to help you find out just how to use floss and just the right floss to use—your dental hygienist. When you have your teeth cleaned at our Creve Coeur or St. Charles office, ask about the easiest and best ways to floss for your own special teeth and gums.
All of the foods which are good for your teeth—milk, cheese, yogurt, fruits, vegetables—are good for your gums, too! And the foods which aren't so great for your teeth—sticky, sugary foods—aren't great for your gums, either. Sugar feeds the bacteria in plaque, and plaque irritates gums.
This doesn't mean no treats ever. It does mean that it's important to brush well after enjoying desserts, or chips, or candy, or any food that sticks around your teeth and gums after eating. And if you can't brush, a drink of water helps wash away bits of food which are still hanging around.
See Your Dentist Regularly
Regular visits to Dentistry for Children can catch any gum problems before they become more serious. And, if you've been missing any spots when you brush and floss, your dentist or hygienist will let you know.
If you notice any signs of gingivitis—puffiness, redness, bleeding, or pain—tell a grownup right away. One of the fantastic things about the way our gums work is the fact that careful brushing and flossing are often all you need to make them healthy again! If you need more help, your dentist is the person who can treat gum problems to keep your smile feeling and looking great.
Work together with Dr. Varble, Dr. Dill, Dr. Wong, and Dr. Parks to make sure your teeth and gums are their healthiest. Just like healthy teeth and gums are a great team, you and your dentist make a great team, too!