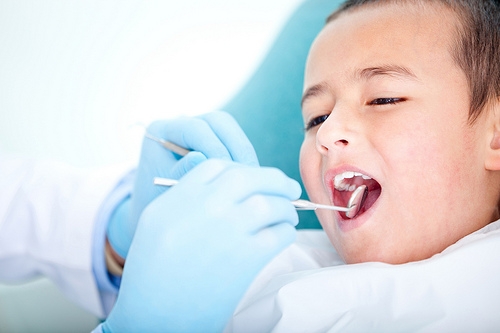 There are many different types of dental specialties out there, so how do you know when you should see a general dentist (your regular dentist), and when you should seek the help of a dentist with specialized training? This article covers the basic differences between a pediatric dentist and a family or general dentist, and why it may be beneficial to find a specialized doctor to work with your children's teeth.
What is a pediatric dentist?
All dentists, regardless of which specialty they practice, attend a four-year dental school for either a Doctor of Dental Surgery (DDS) or a Doctor of Dental Medicine (DMD) degree. Once they have completed the initial degree program, some dentists choose to proceed to additional training in an area of dental specialty. Pediatric dentistry is one of those specialties.
A pediatric dentist will study the development of teeth from infancy through the teen years. Babies, toddlers, school-age children, and teenagers experience different growth phases and have different needs for their oral health care from adults. A dentist with post-graduate training in this specialty can often provide a more comprehensive approach to treatment to meet those needs.
Specialized Needs Pediatric Dentists Can Address
Starting with the first teeth that grow in your child's mouth (usually around six months of age), you need to begin caring for your child's teeth. However, it's not as simple as just doing the same things you do for your adult teeth, because children have specific needs and may have concerns and issues that you do not face for your oral health care as an adult.
There are several concerns unique to younger dental patients. Beginning with babies, parents need to be aware of the specific oral care required for children. For example, babies who drink from bottles can develop baby bottle tooth decay if parents do not properly clean their teeth. Young children may develop a habit of sucking their thumb, which can contribute to poor oral hygiene. Children who have trouble with teeth grinding may need specialized care. And children have specific dietary needs that serve their need to develop strong teeth and gums.
All these concerns can be addressed by a pediatric dentist with specialized knowledge of childhood oral health and teeth development. General dentists often know some of this information, but without the specialized training they may not be able to provide the care that is geared toward the needs of your children. In addition, pediatric dentists will often have a practice that is built entirely with children in mind, with décor, staff, and other elements that can help put children at ease when it's time to visit the dentist.
If you have young children, consider our pediatric dentistry office. At Dentistry for Children, our specialized care for young patients features a caregiver with the knowledge and training to provide your children with the best possible care.