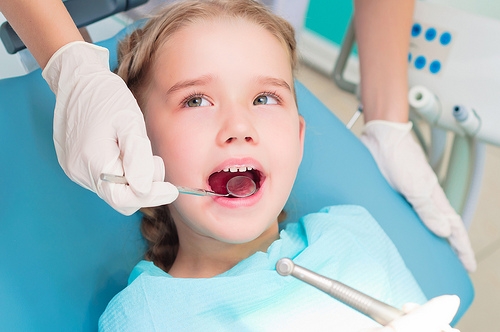 The habit of grinding teeth can be both painful and harmful for your children. If you discover that they are frequently grinding their teeth—a condition called bruxism—here is some helpful information on the problem, and how you can find help to put a halt to it.
How to Know if Your Child is Grinding
Sometimes, identifying a child that grinds teeth is as simple as checking in while he or she is asleep. At other times, you may not be able to readily identify the grinding problem. A few of the most common symptoms associated with bruxism include:
Frequent teeth grinding or clenching of the jaw (in some cases it may be more subtle; in others it may be loud enough that you can hear it)
Teeth that are worn down
Complaints of sensitive teeth
Pain or tightness in the jaw muscles, or an earache or other jaw pain
Frequent unexplained headaches
In most cases, if your children are grinding their teeth, they will do it at night. If the teeth grinding is a result of excessive amounts of stress, it may also happen during the daytime. Some of the most common reasons children grind their teeth involve:
Improper alignment of top and bottom teeth
As a response to pain, especially for tooth, jaw, or gum pain
Excessive stress, tension, or anger
Treatment Options for Bruxism
In many cases, children will grow out of the teeth grinding as their permanent teeth develop, replacing poorly aligned or painful baby teeth. If your child grinds his or her teeth more frequently, or you begin to notice significant damage, it may be more serious and need to be addressed by Dr. Varble, Dr. Applebaum, Dr. Dill and Dr. Wong before it causes more permanent pain or problems.
In some cases, our team at SmileKidz may recommend that your child wears a protective mouthguard to prevent grinding, or work with a therapist or other specialist to develop awareness of the grinding. If the grinding is caused by stress or anxiety, it may be helpful for you to sit down and talk to your child each day about how she is feeling, and why, to help her work through the stress.
Teeth grinding can be a painful, problematic condition for some children. However, a combination of parental vigilance and frequent visits for regular checkups at our Creve Coeur, MO and St. Charles, MO office can help. If you are concerned that your child may be grinding his or her teeth, and it could cause permanent damage before the child grows out of it, come talk to us about strategies for dealing with bruxism, and ways for you to help your child.