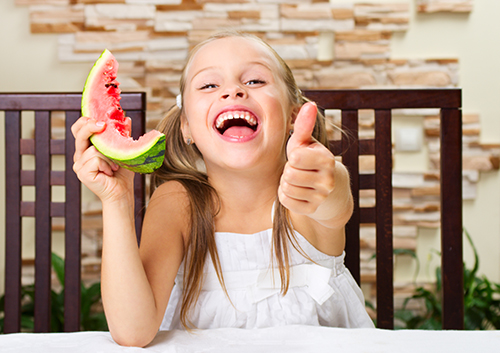 Snacks can taste good and give your child's energy a boost, but they can also be bad for teeth. Sugary, sticky snacks, such as candy, cookies, and snack cakes can lead to tooth decay if eaten regularly between meals. Still, there are plenty of fun snacks for healthy teeth.
The trick when selecting snacks is to avoid too many added sugars and refined carbohydrates that stay on the teeth and give bacteria a chance to ferment and produce acid from them, which can lead to tooth decay. In addition, snacks should provide nutrients to support a healthy mouth. These are five fun snacks you can feel good about giving to your child.
1. Yogurt and cereal.
Yogurt contains calcium, which is an essential mineral for strong and healthy teeth. Select plain yogurt or yogurt flavored with real fruit, rather than flavored yogurt that is sweetened with added sugar. We recommend choosing a whole-grain cereal, which is less likely to lead to dental caries. Choose a low-sugar or unsweetened cereal to avoid accidentally making the snack as sugary as a candy bar.
2. Tuna and whole-wheat crackers.
Canned tuna contains vitamin D, which is an essential vitamin for helping your body absorb and use calcium. Whole-wheat crackers are natural sources of antioxidants for a strong immune system, and they're lower in refined carbohydrates than white crackers.
3. Bell pepper strips and hummus.
Red, yellow, and green bell peppers are excellent sources of vitamin C, which is an antioxidant. Vitamin C is also a good choice for supporting regeneration or maintenance of healthy gum tissue. Vitamin E is another antioxidant, and it also supports a healthy immune system. A strong immune system is protective against infections, such as bacterial infections associated with gum disease.
4. Turkey and cheese roll-ups.
Turkey is carbohydrate-free, so it doesn't leave residues of sugars on teeth for bacteria to ferment. Lean ham is another good choice. Low-fat cheddar, mozzarella, or Swiss cheese is a good source of calcium as well as protein. For a more substantial snack that's still low in carbohydrates and sugar, add a few celery sticks.
5. Peanut butter and carrots.
Peanut butter is another source of vitamin E. Carrots provide vitamin A, which is essential for a strong immune system. You can also substitute cauliflower or broccoli florets for the carrots, and ranch dressing for the peanut butter, and still have a snack that's fun to eat and good for your child's teeth.
For more great snack tips, ask a member of our Creve Coeur, MO and St. Charles, MO team at your child's next appointment!