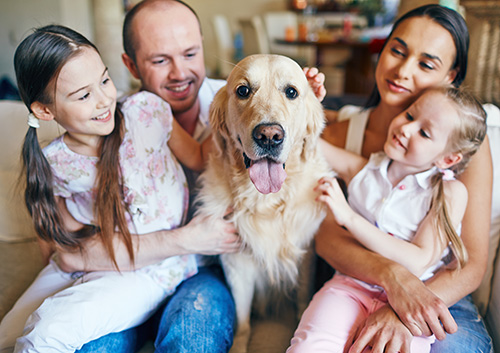 Our pets are a valued part of the family, but dogs and cats are not regularly known for their minty-fresh breath. Did you know that bad breath can be a sign of a more serious dental problem for your furry companion?
If you live with a pet or two, you'll want to brush up on your animal dental knowledge and make sure everyone's teeth stay healthy.
Proper dental care is essential to a pet's overall well-being. About 80 percent of dogs and 70 percent of cats suffer from periodontal disease after the age of three.
Not only is this unhealthy for their mouth, it can lead to more serious health problems, including organ damage and heart failure. Toxins from periodontal disease seep into your pet's bloodstream and have the potential to cause fatal organ damage.
Your veterinarian will check your pet's teeth at an annual or six-month examination, but here are a few signs of periodontal disease you should watch for at home:
Yellow/brown tartar
Foul breath
Red, inflamed, or bleeding gums
Excessive drooling
Pawing at the mouth or rubbing one's jaw against objects
Difficulty chewing
Aside from regular checkups at the vet, the best thing you can do for your pet is brush its teeth daily. Bacteria can recolonize onto the surface of teeth within 24 to 36 hours, so it's essential to remove plaque before it turns into tartar. Ask your vet for a recommended toothbrush and pet toothpaste.
Dental hygiene chews can also help to reduce the effects of gingivitis, but some chews can actually make your pet's oral health worse. Treats such as cow hooves, pig's ears, and animal bones can damage teeth and cause other problems if ingested. Your vet can help you choose items that are healthiest for your pet.
Your dog's favorite toys may also pose a threat to their oral health. Abrasive toys such as the popular green tennis balls can create wear and tear on the surface of pets' teeth.
As with your own teeth, your dog or cat's oral health plays a large role in its overall health. Remember to schedule regular checkups and ask your veterinarian for more tips on how to care for your pet's teeth most effectively.