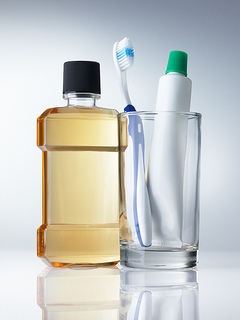 A famous mouthwash company chose the marketing slogan, "Better than flossing." As a consumer, would you believe a high-end commercial that essentially tells you to stop flossing? Just use this brand of mouthwash and the risk of gingivitis, cavities, etc., is gone. What a wonderful idea! Now for the reality: This is simply not true.
The company that made these claims received some negative feedback for making this false claim. Does this mean that all mouthwashes are ineffective? Absolutely not. It takes a little bit of research to know which mouthwashes are most effective and best suited for you. Here are some key points to remember when choosing a mouthwash.
First, think about why you want to use a mouthwash. If you are at high risk for cavities, you would benefit from a fluoride mouthwash. Check the labels to see which ones contain fluoride.
If you have active gingivitis, a mouthwash with some antibacterial properties would be preferable. Read the labels carefully. You do not want a mouthwash containing alcohol. If you have active periodontal disease, an antibacterial mouthwash is appropriate, though you may want to discuss which kind would be best for your individual needs.
Prescription mouthwashes are also an option. You should pay close attention to the directions, such as how much and how long to use them. There is one brand in particular whose effectiveness can steadily diminish if you use it continually. There can also be side effects you should discuss with our office and/or your pharmacist.
Some great mouthwashes for kids change the color of plaque on their teeth to help them see how they are doing with their brushing. This is a great learning tool for the child and the parent! Why not pick up a bottle for yourself next time you're at the store and evaluate your own performance?
Beware of claims that a mouthwash can loosen plaque. This is not accurate. Beware of any mouthwash that has alcohol. This is worth mentioning twice. Take care of your taste buds. If you are using a strong mouthwash, it can reduce your sense of taste.
These tips should help you choose the right mouthwash for your needs. Please contact Dr. Varble, Dr. Dill, Dr. Wong, and Dr. Parks at our Creve Coeur or St. Charles office with any specific questions!